Mission
Inspire discovery through innovation, hands on experiences, and exploratory play.
History
Founded in August 2019, the Chambers County Children's Museum "seeks to inspire discovery through innovation, hands on experiences and exploratory play". The CCC Museum is a registered is a non-profit, 501(c)3 organization in the state of Texas with a Board of Directors comprised of 12 community leaders who are passionate about bringing play-centered learning to Chambers County. The explosive growth of the area, primarily made of young families, is driving the need for more family and kid-centered activities and programs. The Chambers County Children's Museum strives to fill that need by bringing unparalleled exhibits and experiences to our Chambers County Community.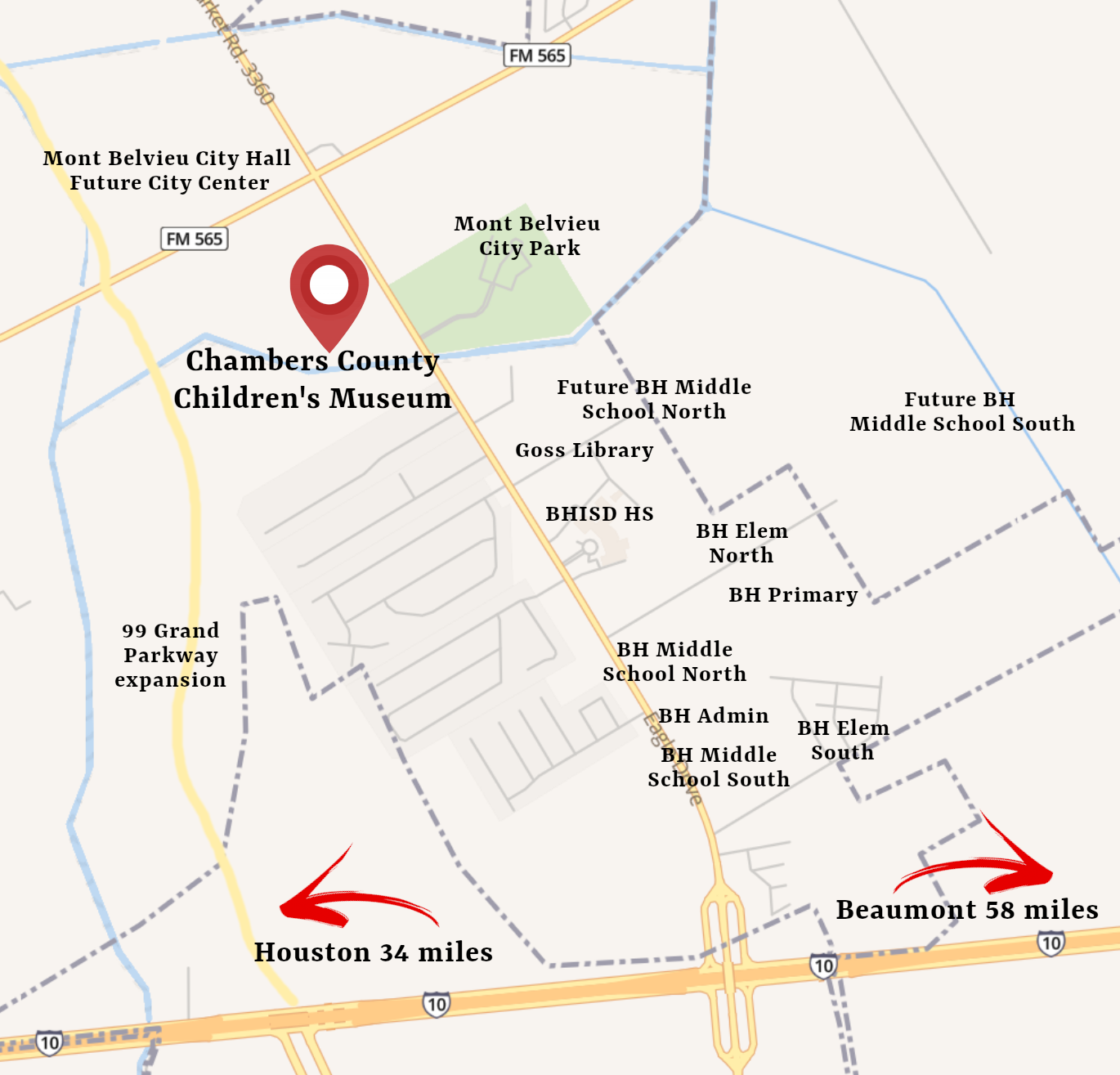 In November of 2019, the group partnered with the new owners of the old Thrif-Tee Food Center located at 10955 Eagle Drive in the heart of Mont Belvieu, TX for a 15 year free lease. In the Spring/Summer of 2021 we completed an extensive analysis of the current state of the building, and began work with an architectural firm to determine the specifics of renovations. In the Winter of 2021 we selected our General Contractor and began the installation of a new TPO roof. Early in 2022 we finished interior demolition of the facility and finalized our Value Engineering. Our Construction Documents cleared permitting with the City of Mont Belvieu in July, and construction on our $4mm renovation is underway! Once completed, the Chambers County Children's Museum will be the only organization in a 45-mile radius that provides a unique learning experience specifically designed for children and their families. Chambers County Families with young kids currently have limited leisure enrichment destinations in the area, especially when the weather is too hot, rainy, or too cold. We are working hard to be celebrating our Grand Opening in the Spring of 2023. Follow our building process updates on our Blog Page and on Facebook.
Exhibit Sponsorship: The Chambers County Children's Museum will highlight our community's industries – rice farming and oil and gas. The Museum will have 2 primary Exhibit Areas: Main Street, located throughout the CCCM Interior, and Recess!, our featured Exterior Exhibits. Each of these areas will offer opportunities for permanent & term length sponsorship from our local corporate partners at varying price points based on exhibit specifics. Check out all the ways you can help build the Chambers County Children's Museum by perusing our Sponsorship Menu.
For more information, email Executive Director, Melody Kraus