Paper Airplane Launcher
The Paper Airplane Launcher will offer Museum goers of all ages to learn about the properties of air, life and aerodynamics – all while designing the next epic paper airplane. Which shapes and sizes of airplanes go the furthest? Does the weight of the paper effect the distance traveled? Are bigger or stronger wings better? This exhibit is sure to engage children for hours!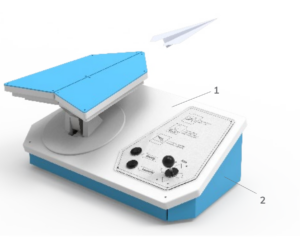 Paper Airplane Underwriter:
$10,000
 The Underwriter will have their name/logo displayed alongside the statue.
The Chambers County Children's Museum will work to customize your signage in a way that compliments your company's marketing goals. Your company's logo will be included on the Museum website and social media accounts. Underwriters will also be invited to provide programming throughout the year to extend the educational impact of your industry for our Museum patrons.
For more information contact Melody Kraus, Executive Director: CLICK HERE TO EMAIL ~ 832.307.0290