Farm Exhibit on Main Street Sponsorship
More than ½ of Chambers County land holds a farm. That's over 200,000 acres (or 312 square miles) of land producing grains, oilseeds, dry beans and peas, and raising cattle and other farm animals. The #1 produced item = Rice. The Farm Exhibit on the Boardwalk at the Chambers County Children's Museum will offer hands on opportunities for children to experience the dynamics and fun of a working farm.
Farm Exhibit Underwriter: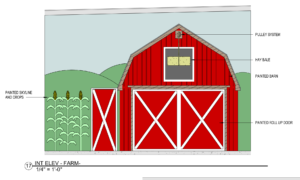 $65,000
Total Exhibit Sponsorship = Prominent Name/Logo Presentation on Exhibit/Museum literature
(the farm exhibit can be sponsored in total or elements can be sponsored individually)
Sensory Rice Bin Tables: $1,300     Grow Station: $1,500
Farm Exhibit signage can be collaboratively customized to your design and marketing vision. The Underwriter will have their name/logo displayed alongside the Exhibit.
The Chambers County Children's Museum will work to customize your Farm Exhibit and signage in a way that compliments your company's marketing goals. Customized signage will also be included in our Museum Map, and your company's logo will be included on the Museum website and social media accounts. Underwriters will also be invited to provide programming throughout the year to extend the educational impact of your industry for our Museum patrons.
For more information contact Melody Kraus, Executive Director: CLICK HERE TO EMAIL ~ 832.307.0290